Bibliografie Timothy Slater
Übersetzte Titel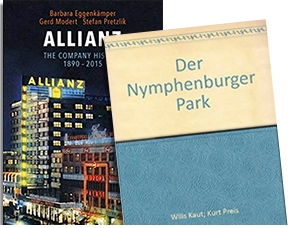 Liste publizierter Übersetzungen (Bücher, Artikel, etc.), interne Firmen-Publikationen nicht engeschlossen List of published translations (books, articles, etc.), company in-house publications not included
von Aretin, Annette. Mein Englischer Garten. Munich: Nymphenburger Verlag, 1989 (bilingual). ISBN 3-485-01879-1

Bähr, Johannes, Ralf Banken & Thomas Flemming. MAN: The History of a German Industrial Enterprise. Part Four: "The Way to Today's MAN Group (1960-2008)". Munich: C. H. Beck, 2009. ISBN 978-3-406-58809-9.

Baumann, Wolf-Rüdiger. The Merchants Adventurers and the Continental Cloth Trade (1560s-1620s). European University Institute Series B. Berlin & New York: Walter de Gruyter, 1990. ISBN 3-11-012582X (I also did the extensive index)

The Commonwealth of Bavaria (working title), Munich: Hanns-Seidel Stiftung. Forthcoming.

European Bicycle Parts Catalogue. Bielefeld: Bielefelder Verlagsanstalt, 1989, 1991. (not all items; also editor)

Bullens, Hendrik. "The future of the defence firm in Germany". In Restructuring the Military Industry: Conversion for the Development of the Civilian Economy, ed. Hayan Qian. Proceedings of the 1993 UN Conference in Hong Kong. New York/Peking: China Association for Peaceful Use of Military Industrial Technology and United Nations Department of Development Support and Management Services, 1994.

Bullens, Hendrik. "Turning back disarmament? `Lean defence' and the new arms dynamics". Peace and the Sciences (Vienna), vol. 25 (December 1994), pp. 31-37.

Bullens, Hendrik. "Conversion and the future of the German defence firm – A systemic view". In The Future of the Defence Firm: New Challenges, New Directions, eds. Andrew Latham and Nicholas Hooper. Proc. of the NATO Advanced Research Workshop on the Future of the Defence Firm in Europe, North America and East Asia, NATO ASI Series D - Behavioral and Social Sciences. Dordrecht, Netherlands: Kluve Academic Publishers, 1995.

Bullens, Hendrik. "Cuts without conversion in the united Germany". In Defensive Doctrines and Conversion, eds. Lev Voronkov & Bjørn Møller, (International Institute for Peace, Vienna). Aldershot, England/Brookfield, USA: Dartmouth Publ. Co., 1996.

Bullens, Hendrik. "Arms industry and arms trade in crisis? Rhetoric and reality in post-Cold-War Germany". In Restructuring Security Concepts, Postures, and Industrial Base, eds. Hendrik Bullens and Seiitsu Tachibana, International Peace Research Association, Security and Disarmament Commission, Report 9. Mosbach, Germany: AFES Press, 1997.

Bullens, Hendrik. "Farewell to arms or to arms conversion? Some economic effects of cutbacks in defence spending in post-Cold-War Germany". In Arms Industry at the Crossroads: Conversion, Restructuring and Arms Trade in Europe, ed. Hendrik Bullens, International Peace Research Association, Security and Disarmament Commission, Report 8. Mosbach, Germany: AFES Press, 1997.

Burhop, Carsten, et al. Merck 1668-2018: From a Pharmacy to a Global Corporation [Introduction and Sec. I]. Munich: C. H. Beck Verlag, 2018. ISBN 978-3-406-70039-2

Chesnais, François. "Jeremy Corbyn, die Wiedereroberung der Arbeiter-Partei durch die Linke, und ihre Regierungsaussichten" [French into German], in Sand im Getriebe, no. 130 (Dec. 2018)

Climail - bulletin of the Climate Alliance/Klima-Bündnis der europäischen Städte mit indigenen Völkern des Regenwaldes, Frankfurt am Main (occasionally, since 1999)

Eggenkämper, Barbara, Modert, Gerd, and Pretzlik, Stefan. Allianz: The company history, 1890-2015. Munich: C. H. Beck, 2015. ISBN 978 3 406 67821 9. (Chapters 2 and 5)

Energy Developments (Gräfelfing, Germany: Technischer Verlag Resch), 1984:
- "Bed time: Fluidized-bed CHPs are out of the experimental stage"
- "Giving gas a turn: Using gas turbines in industrial and municipal cogeneration plants"
- "The Sarawak hydroelectric project"
- "Biogas technology depends on the socio-economic structures"
- "The Sudan faces enormous energy problems"
- "Efficient use of energy in Ecuador's sugar industry"
- "Better-qualified power specialists"
- "Rural electrification-a stepchild in development?"

1985
-"A male expert would be ridiculous"
-"The possibilities are still unexploited"
-"Biogas is not the method"
"Advanced training in Bavaria for foreign specialists and managers of electrical utilities"

1986
-"Good, better, GUD?"
-"The PRENFLO coal gasification process"
-"Jordan: The desert state is becoming a donor country"
Energie Spektrum (Gräfelfing: Verlag Resch), ISSN 3900-4916. May '86:
- "Gemeinsamkeit macht stark?", Thomas J. Murrin (into German)

International Edition, Dec. '88:
-"Making your bed: Circulating fluidized-bed combustion has become the technology of choice for power stations in the F. R. Germany in the Eighties"
-"World champions in sulphur scrubbing: The desulphurization of West German power stations is completed"
-"Coal technology is trumps: West German coal mines and boilermakers
cooperate" - "Upkeep: Power plants almost as good as new after overhaul"
-"Giant combined-cycle plants: Flexible choice of fuels with gas turbines"
-"The West German flue-gas scrubber makers"
Dec. '89:
- "Barsebeck: much sought after"
- "Buggenum: much sought after"
- "GDK 250"
- "GSP Favored"
- "A herald of the Single European Market"
- "Important percentage"
- "Koppers-`Accepting any reasonable demand'"
- "Progress with IGCC systems"
- "Whose IGCC system is the best?"
- "Prominent Prenflo"
- "Speaking the language of the electricity utilities"
- "VEW-`Partial gasification offers degrees of freedom'"
Dec. '90:
-"Burning old tires for power and profit"
FriedensBrief, Starnberg: Forschungsinstitut für Friedenspolitik - translated issues 1987-89 (until ceased publication)

Galtung, Prof. Johan. into German: "Nach dem Kalten Krieg – was nun? Eine gesamt­europäische Konföderation!". In Zivilmacht Europa, eds. Christoph Butterwegge & Martin Grundmann. Cologne: Bund-Verlag, 1994. ISBN 3-7663-2577-9.

Görnitz, Thomas. Protyposis – an Introduction: Consciousness and Matter from Quantum Information.

Munich: Das Neue Denken, 2018. E-book: ISBN 978-3-947382-02-6, print: ISBN 978-3-947382-01-9

Huck, Burkhard J., Martin Grundmann, Sabine Lauxen & Gerhard Richter. Regional and Occupational Dependence on Defence Contracting in the Greater Munich Area. Starnberg, Germany: Forschungsinstitut für Friedenspolitik & Institut für Medienforschung und Urbanistik; (for ILO, World Employment Programme); May 1989. - in abbreviated form as chapter in: Liba Paukert & Peter J. Richards (eds.). Defence Expenditure, Industrial Conversion and Local Employment. Geneva: International Labour Office, 1991. ISBN 92-2-107288-6 (hc)

Jooß, Prof. Christian. Self-Organization of Matter. DeGruyter STEM [forthcoming]

Kaiser, Walter & Norbert Gibson. Heraeus: Pioneers in Materials Technology. Munich/Zürich: Piper Verlag, 2001. (with Karl Heinz Siber). Chapters III: Vacuum Technology, and VI: Light for Medicine and Industry

Kaut, Ellis & Kurt Preis. Der Nymphenburger Park. Munich: Nymphenburger Verlag, 1987 (bilingual). ISBN 3-485-01878-3

Kaut, Ellis & Kurt Preis. München zu jeder Jahreszeit. Munich: Nymphenburger Verlag, 1990 (bilingual). ISBN 3-485-01897-X

Knight, Nick & Pollmer, Udo. Plant Power. Schirmer Mosel Verlag, Schirmer Art Books, 2005. ISBN 978-3-8296-0009-5.

Landgräber, Wolfgang, et al. "Case No. 01: German arms exports for genocide: Mauser rifles and Krupp cannons used in the genocide of Armenians by Ottoman armed forces (1895-1916)" [long and short versions], in Global Net – Stop the Arms Trade.
https://www.gn-stat.org/english/cases/armenien-lv-eng
https://www.gn-stat.org/english/cases/armenien-sveng/

Lay, Maxwell Gordon. Ways of the World: A history of the world's roads and the vehicles that used them [New Brunswick, New Jersey: Rutgers University Press. 1992] – into German, with Thomas Pampuch, as: Die Geschichte der Straße: Vom Trampelpfad zur Autobahn. Frankfurt am Main/New York: Campus-Verlag, 1994. ISBN 3-593-35132-3

Lautenbacher, S., A. Möltner, W. P. Lehmann, G. Galfe, R. Hölzl & F. Strain. "SDT analysis of experimental thermal pain, with `signal' and `no-signal' being determined psychophysically". Perceptual and Motor Skills, 68 (1989): 1019-30.

Maneval, Prof. Helmut. "Defence Spending in West Germany", Defence and Peace Economics, Vol. 5, pp. 221-246, Harword, 1994.




Mayr, Otto et al. The Deutsches Museum. London: Scala Books, 1990. ISBN 1-870248-29-5 (hc) / 1-870248-20-1 (pb)

Mesch, Harald. "From `Monkeywrenching' to `Wordwrenching', or the development and forms of ecoresistance". In: Ecoresistance/Ökowiderstand, ed. Harald Mesch, Gulliver German-English Yearbook, vol. 27. Berlin & Hamburg: Argument Verlag, 1990. ISBN 3-88619-705-0

Nitsch, Joachim, Pregger, Thomas, et al. Long-term scenarios and strategies for the deployment of renewable energies in Germany in view of European and global developments. Summary of the 2011 final report to the German Federal Ministry of the Environment by the Deutsches Zentrum für Luft- und Raumfahrt (DLR), Stuttgart, Institut für Technische Thermodynamik, Abt. Systemanalyse und Technikbewertung; Fraunhofer Institut für Windenergie und Energie­system­technik (IWES), Kassel; and Ingenieurbüro für neue Energien (IFNE), Teltow.

BMU - FKZ 03MAP146.
https://www.db.com/cr/en/docs/leitstudie2011_kurz_en_bf.pdf

Pollmer, Udo. "The spice trade and its importance for European expansion", Migration & Diffusion (ISSN 1563-440X). Vienna: Odysee-Verlag, vol. 1, no. 4

Rumpf, Ingrid. The Nakba: Flight and Expulsion of the Palestinians in 1948. Pfullingen, Germany: Flüchtlingskinder im Libanon e.V, 2014

Scheer, Hermann. "Solare Weltwirtschaft" (1st chapter into English for foreign-rights offer). Munich: Verlag Antje Kunstmann, 2000.

Schlamminger, Ludwig. "Aurora borealis during the Maunder minimum". Monthly Notices of the Royal Astronomical Society (Oxford), 247 (1990): 67-69. ISSN 0035-8711

Schlamminger, Ludwig. "Aurora borealis lag during the Maunder minimum". Solar Physics, 131 (1991): 411-14.

Schlamminger, Ludwig. "Hemispherical asymmetries in sunspot areas and auroral frequencies". Solar Physics, 135 (1991): 407-13.

Schlamminger, Ludwig. "Discovery of radio Sun 50 years ago". Journal of the British Astronomical Association, 102 (1992), no. 2: 80.

Schlamminger, Ludwig. "Aurora borealis lags during the Middle Ages". Journal of Atmospheric and Terrestrial Physics, vol. 54 (1992), no. 7/8: 989-993.

Umweltbundesamt [German Environmental Protection Agency]. "Report on the Waste Management Policies of the Federal Republic of Germany". Berlin: Umweltbundesamt, 1990. Photocopy.